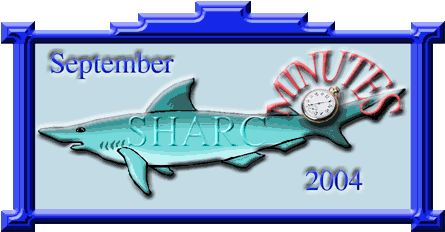 September 28, 2004
Members present: 14
Nancy
Jerry
Dave
Sally
Jack
Lamar
Eddy
Leland Smith
Gladys Smith
Cliff, Gary
Warren Bell
Wilma Bell
KG6PIJ
Agenda approved. Previous minutes are on the website. Jerry moved the previous minutes be approved and Jack seconded.
Treasurer's report:
$529.96 in our regular account.
$950.00 in the test equipment account.
Membership is the same.
Old Business:
Jack reported on our trip to Grasshopper Peak. We put two solar panels up to add to the one already there. Jack put a new receiver board in and adjusted the solar panel controller. The range isn't as good as it used to be. Nancy showed photos to Rotary. Dave Katz was there. Nancy thanked him for the donation of the panels. Those present for the Grasshopper trip were: Jack, Jerry, Nancy, Lamar, Gary, and Cathy.
Events:
Emergency Planning Meetings: (EPT)
Jack reviewed the dates for the next EPT meetings.
October 22 at 1:00 pm at CDF Station on Alderpoint Road
November 18 A statewide hospital drill using HAM communications nets
November 19 Regular team meeting
December 10 A table top drill-details to be announced
Jerry reported on the September 24 EPT meeting. Many SHARC members were present, they were pleased that Reba from Shelter Cove was there. There was discussion about the recent series of County OES Emergency Drills which some of the SHARC members attend.
OES Emergency Drills:
Jerry reported on a drill held by OES in Southern Humboldt as part of a series that included Arcata, Eureka and Fortuna. Southern Humboldt participants included Sheriff, CDF, Fire Chiefs, EPT members and members of SHARC.
New Business:
Roll call was on 9/19/04 on the net. Nancy asked for comments. Jack said we should do it every quarter. Leland Smith said once a month. Jerry seconded once a month. Nancy suggested the roll call be done on the 1st Monday of the month on the net. Discussion was how to accomplish this. We will do a roll call of the full list. Then ask for others who are listening in the area to call in. Jerry offered to do the roll call. Jack will assist.
KM6TE, Jack, is still taking nominations for board members and officers for next year. Jack asked for volunteers to run for the board or to be officers. Deadline is mid to late October for nominees.
Jerry: There will be a Community Emergency Training School (CERC) going on in Briceland. Call Jerry at 923-2407 if you are interested. 12 have already signed in. In an emergency there will be damage assessment, etc. This group will look at this issue.
Fire Safe Council meets: Oct. 18th 6:00p.m. at CDF.
FIRE SAFE COUNCIL: how the county will take care of fire, locally.
OES meeting Sept.30th in Eureka 1:30p.m.
Open Forum:
Lamar wanted minutes e-mailed. Nancy will e-mail them to those interested.
Committee members for OES are Jack Foster and Jim Robertson.
Jack is keeping a list of those who are running the Monday night Net.
Check 147.33 if you are going to Eureka. Where does it come in and go out?
Jack asked: "Who wants a Disaster Work Badge?" He will help make arrangements to get them. If you go to Eureka call OES and see if you can go there yourself and get it.
Adjournment:
President Nancy Wilson adjourned the meeting.
Minutes submitted by Club Secretary, Cathy Lentz
Formatted for web by Kim Cabrera